As with most of my blog topics they hit me while I'm brushing the floor at work. I got to thinking " What type of people blog" and the simple answer after a little research, seems to be; every type of person. From people like me who do it as a sort of diary/outlet for the crazyness to people who do it as a full time job and then theres everything in between.
I found this little article that breaks it down http://www.earnersblog.com/blog-stereotypes/. I would class myself as a Journal/Hobby/Review blogger in that order. I like to use this as a place tot get some of the stuff that rattles about my brain OUT! I have no intentions of going pro ever! Well I lie, just a little. If the opportunity arose to write about technology/science I'd prob give it a go.
The latest guesstimates from Technorati suggest there are upwards of 500million blogs. (I seen it in there somewhere, its a big report) and what surprised me most is the fact that 2/3's are male. I just assumed that women would do this more, only because its kind of a natural extension to keeping an actual physical diary. Which boys/men don't seem to do. I never have.
***I just stopped 1/2 way through here to have my Sunday dinner, nom.nom.nom...Sleepy now...but onwards we trundle**
As with everything else in the world Americans do it the most...
but that's because there are more of em and they have better access to t'internet.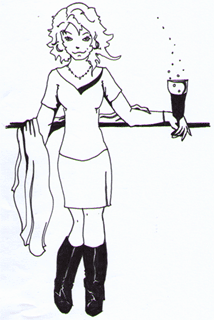 I also found this website http://www.typealyzer.com. Just type in your blog addy and it'll analyze its contents, It's analysis of me was fairly accurate but i didn't like the picture it gave me... For one its a girl and two it makes me look like an alcoholic hooker...which i'm neither of. :)
It seems that my style of blog is the type that is read the least and tbh I'm ok with that. Sure I want people to read this but not absolutely everybody. If I wanted more readers I would blog about tech or boobies or even technological boobies :O
-----------------------------------------------------------------------------------------------------------------
Other stuff that's happening.
Mothers Day.
Usually I take her out for dinner but this year I'm broke saving hard. So this year she got;
3 Books

3pk Paint Brushes

Window squeegy cleaner thingy

a hug!
The books had women on the covers and where written by women. So lets hope that the combination of those 2 factors leads to books she likes. She wanted t
he middle 2 items
, so I was happy to oblige. Oh and the hug, well that was free.
StumbleUpon.
This is a great site, basically you list your interests and it finds websites tailored to them. It has already produced some funky and interesting places. Such as this, have a look they are hilarious.
That seems to be it so,
Till next time...Peace!